3 | The Wedding Checklist
There is so much to think about when planning a wedding. If this is your first time planning, you may well be scratching your head, not sure where to start!
We've created this checklist to help you, giving you a thorough overview of what items to consider including in your wedding decor.
Think of this as your wedding 101 decor cheatsheet!
Bridal party
Your "bridal party" typically includes you and your partner, plus any key family or friends who play an important role in your wedding. These people usually have some sort of floral design to add to their outfit on the day.
Some couples like to get ready on the morning of the wedding separately, at their family's home or hotels for that element of surprise at the ceremony. Other couples prefer to do away with tradition and prepare for the day together. Usually, your bridal party flowers are delivered to wherever you and your partner are getting ready, so that you can take some nice photos with family before you head off to the ceremony!
If you are a bride and plan on holding some flowers, there are a few different shapes we can create, including our signature classic look (pictured), a trailing cascade, or a wide/long shaped design.
Maids of honour and/or bridesmaids usually hold a bouquet that is similar in style to the bridal bouquet, but slightly smaller and simpler in design. This ensures that the bridal bouquet stands out most, particularly in group photos.
Family wrist corsages & buttonholes
Often, the parents of the couple add a buttonhole or corsage to their outfit on the day. It makes them feel that extra bit special, particularly in photos and if they are walking down an aisle.
For grooms wanting to match your partner with a floral touch, we recommend a buttonhole that you'd pin on your chest. Usually this goes on the lapel of a jacket.
Best men and/or any groomsmen usually have a similarly matching buttonhole pinned on their chest too. Like the bridesmaids, it is normally slightly smaller and simpler.
If you have any children that will form a part of your bridal party and walk down the aisle, it's super cute to add a touch of floral to their outfits too. Whether it be a buttonhole, little posy of flowers, a flower crown or a basket of throw petals.
Ceremony
There are several key ceremony elements to consider, depending on your location.
One thing we would highly recommend is having a statement backdrop that can also double as a photo backdrop post-ceremony for guests!
Ceremony backdrop / installation / arch
Floral arches are a classic option. A more unique take is something that is free-standing to create an artistic design for a memorable statement.
Depending on the location, you might need to consider hiring chairs if the venue itself does not provide them.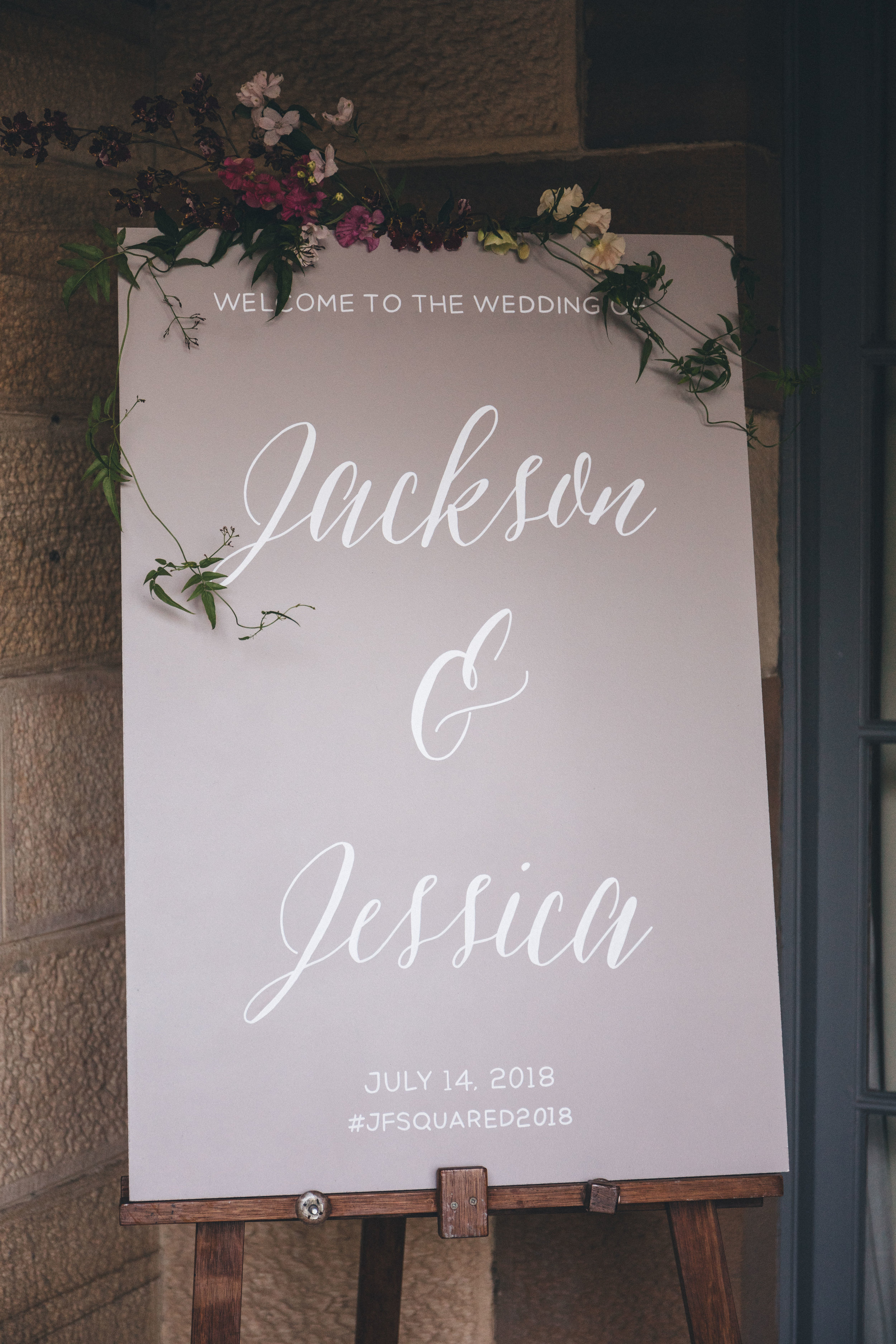 A personalised welcome sign placed at the ceremony entrance helps create a welcoming invitation to guests, sets the theme for the day, and also ensures that they feel at ease, knowing they're at the right location!
Add a touch of something pretty to the aisle edge, whether that be the chairs, church pews or the aisle floor area. Rose petals, floor floral arrangements and/or floral chair ties provide a nice touch!
To the side of where you stand at the ceremony, there's usually a table on which to sign the wedding certificate. It's nice to add a floral touch here too.
Front of ceremony aisle decor
An additional statement piece for the ceremony decor is to mark the front of the aisle walkway with flowers or other decorative elements.
Reception
We love decorating receptions! As each venue and wedding style is different than the next, there is a lot to play with. The main decorative elements are usually the bridal table and guest tables, followed closely by the welcome area, the cake, seating chart. A ceiling or wall installation further enhance the reception experience.
If you are having a classic separate bridal table at your reception, it's great to decorate the tabletop and/or the space around the bridal table area to create a highlight!
Depending on your table shape, we can design something to decorate the middle of the table. The key thing is to ensure that the design is either above or below the eye level so guests can easily speak to each other!
Your cake can be a showstopper on display prior to it being cut. We can decorate it with flowers and the table that it sits on, so it matches the rest of the wedding theme.
We love how candles can light up a room and add ambience to the space. There are so many styles, from taper candles to add height, to tea lights and pillar candles in different colours!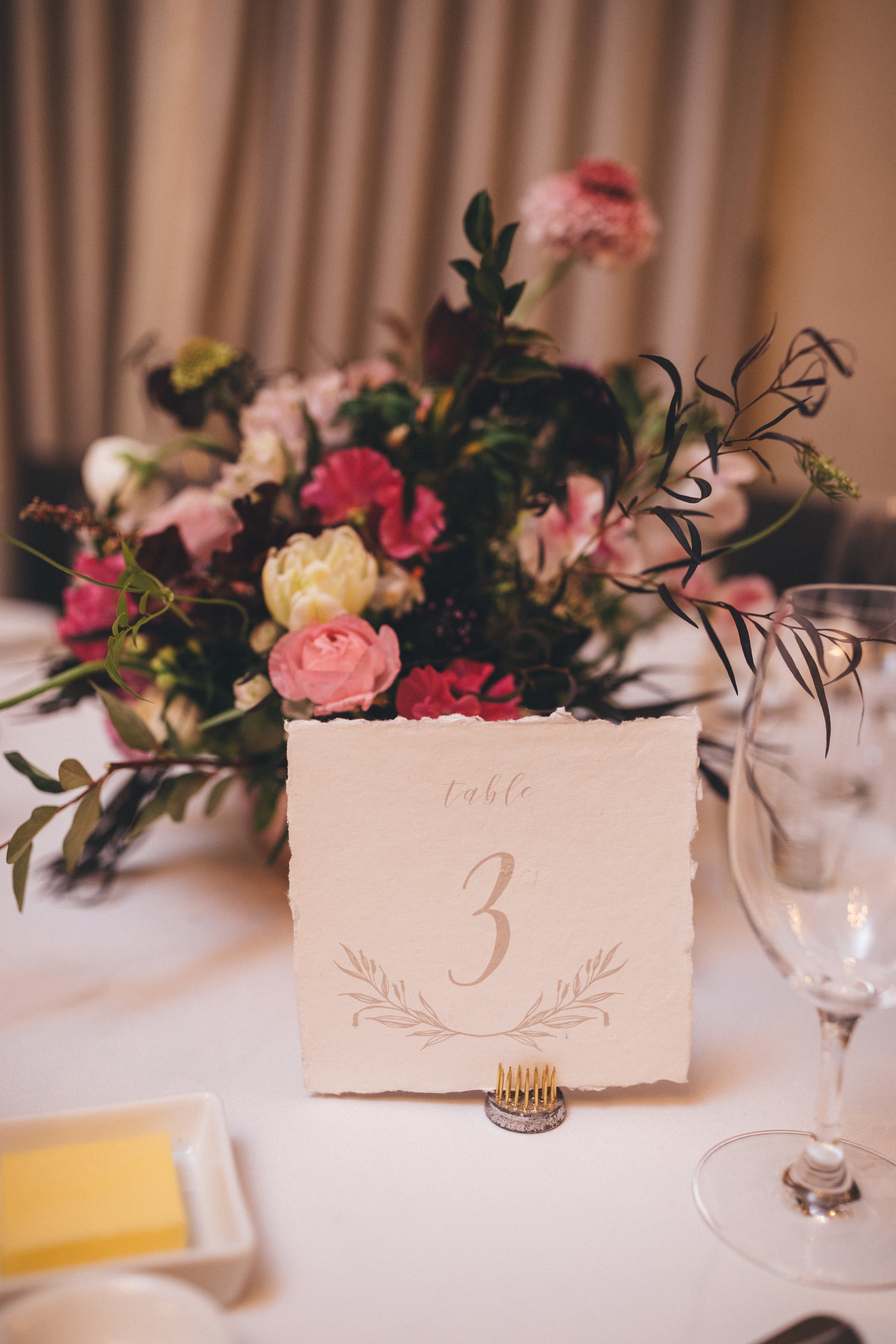 Not every reception venue provides table numbers, or you may not fancy those provided. We can ensure we design table numbers that match your table setting to further add cohesiveness to the overall wedding aesthetic.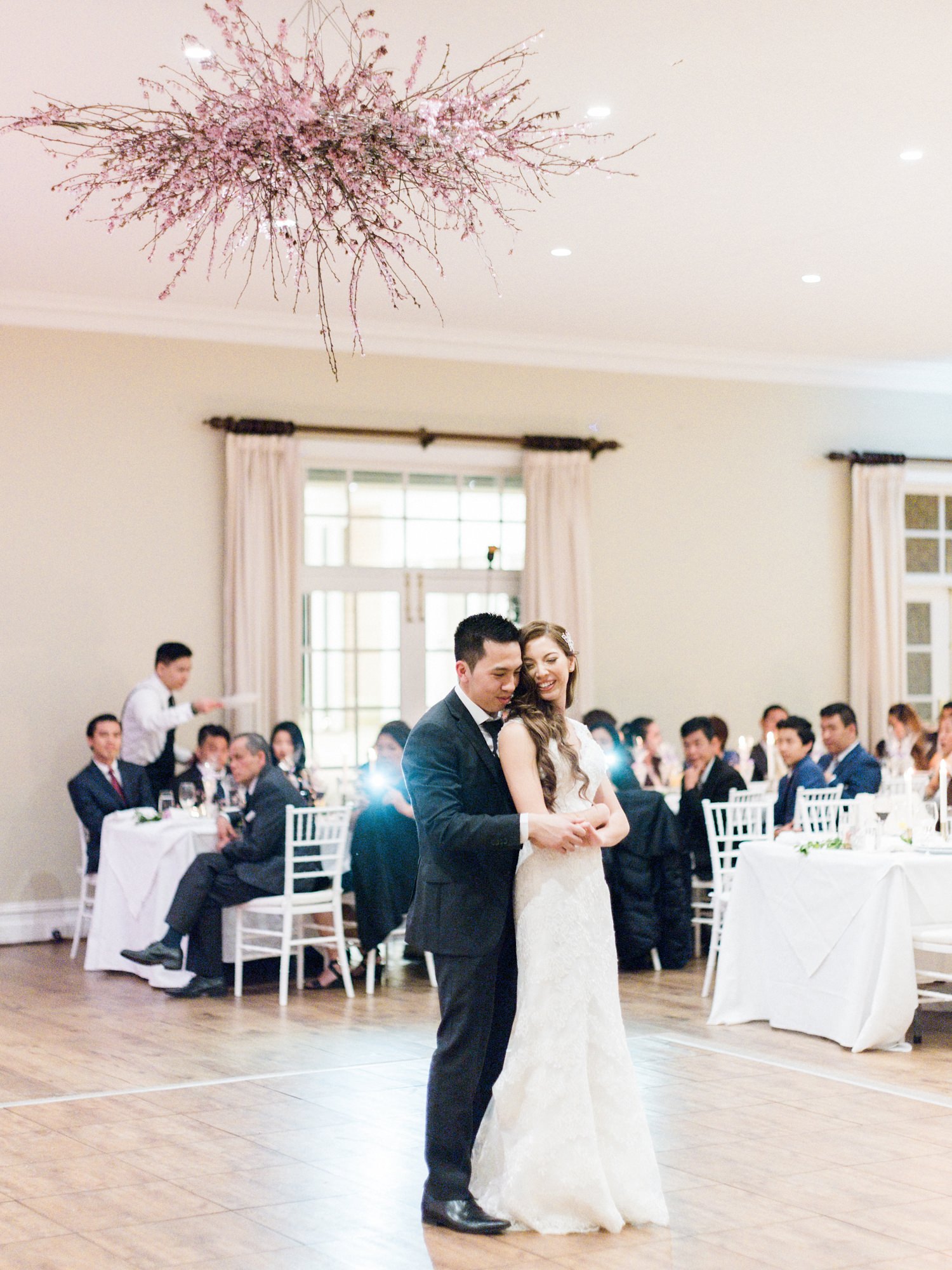 The best way to add a wow factor to your reception area? A ceiling installation! Normally this is above the dance floor area, or around the vicinity of the bridal table.
Wishing well / gift table
It's common to have a space set aside for guests to provide gifts, a guest book and/or a wishing well. Add some signage and a touch of decor to pretty it up and draw guests towards it.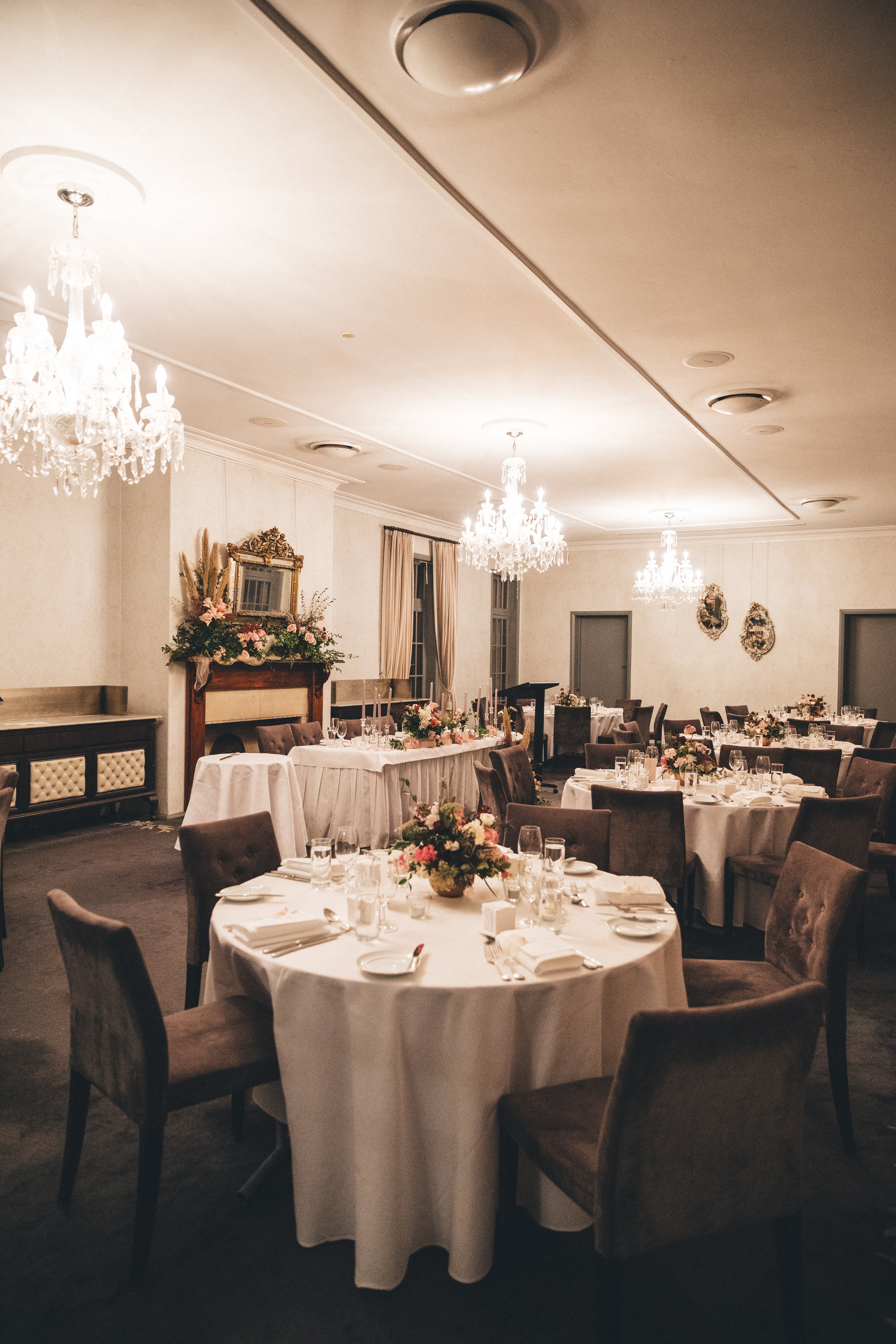 Consider adding chandeliers, fairy lights or other types of lighting to further brighten up a moody space and create a touch of grandeur. Make sure to check with the venue to see what they allow.
Depending on whether the bar area is near your venue's entrance, this can be a two in one! Welcome your guests with a statement display of blooms to up the fancy.
To further create a cohesive look throughout the reception, having custom made name place cards and/or menus can create a personalised feel for each guest.
When guests arrive at your reception entrance, the seating chart is what will help guide them to their allocated seat. We usually have this custom made to match the welcome sign, and decorated with florals.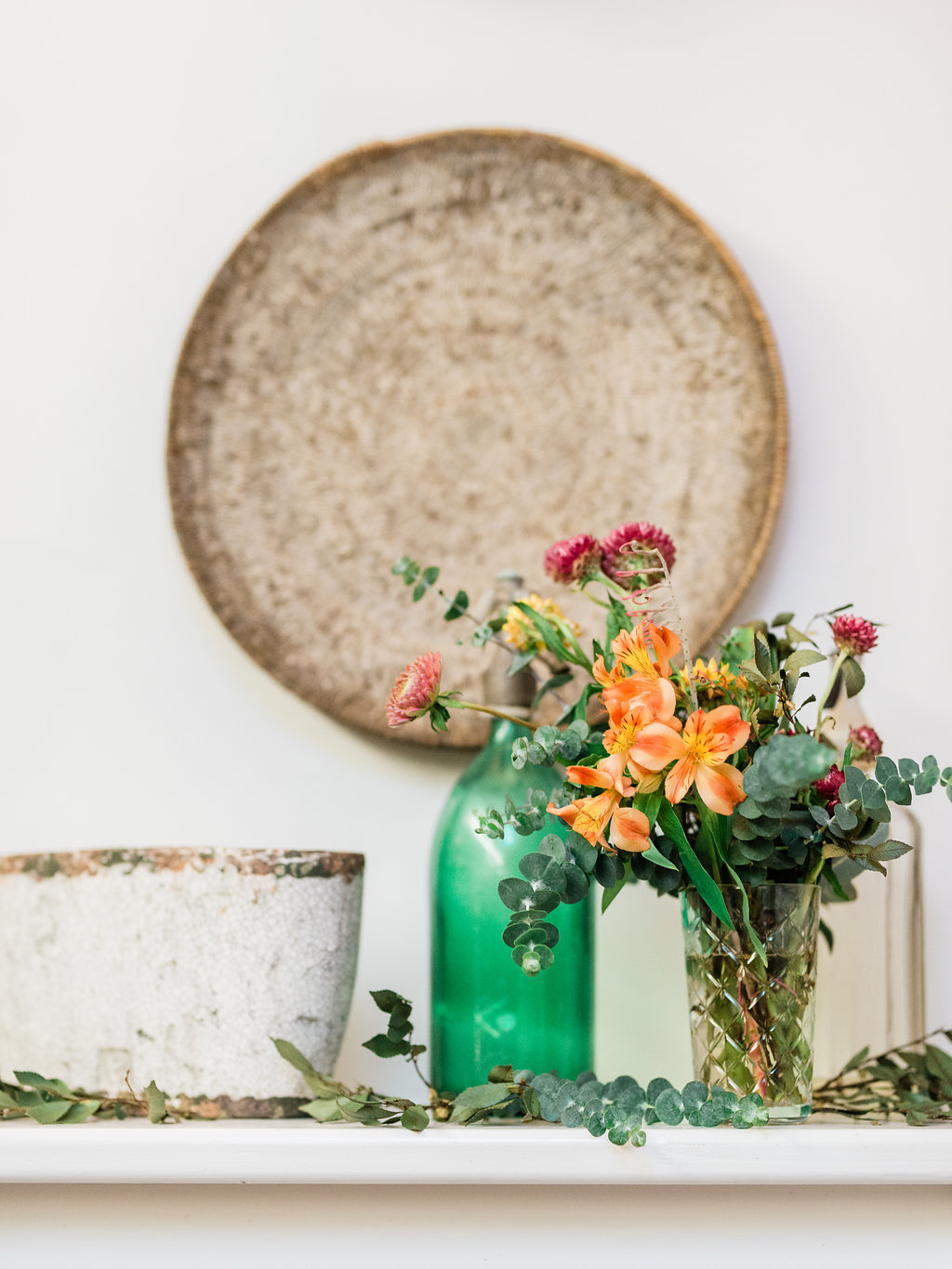 Lounge / cocktail table decor
For some locations, you might have an outdoor or corner lounge area and/or bar tables for guests to mingle around during the reception. Add a small touch to tie those aspects into the overall wedding theme.
Styling & planning
There's more to a wedding than just the pretty flowers and hire elements. Say you're highly allergic to flowers and want something a bit unconventional, or if you are time poor and just need assistance with the overall planning process…we're here to help.
You might be interested in hiring us for any of the following areas:
Wedding theme concept and mood board

Design & planning for each space / experience of your wedding

Budget & invoice management

Vendor selection and coordination

On the day coordination
If any of the these areas seem like something you need help on, keep this in mind and let us know at the end of this journey, when submitting your full enquiry.
We hope you find this checklist informative! Feel free to bookmark, print or keep this open in a browser tab, so that you can easily refer back to it at the end when completing our form at the end of this experience.
If you've enjoyed this experience so far, and feel like we'd be awesome together, it's time to get in touch!